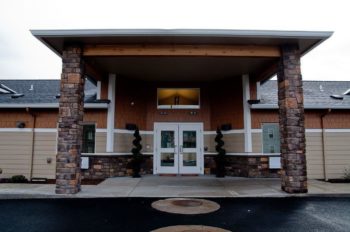 Commercial Painting for Salem, Oregon Businesses and Facilities
Star Painting LLC offers professional commercial painting services for businesses in Salem, Oregon and the greater Willamette Valley.
Our team of commercial painters in Salem, OR have been delivering quality interior and exterior paint services for over ten years and has a proven record of raising the bar on service and technique.
---
Upholding our award-winning reputation
As a division of Star Builders, an award-winning general contractor service, Star Painting keeps its standards high, but not unreachable.
We offer commercial painting services in Salem for small and large businesses alike and customize our services based on your needs.
Ask about our custom color matching services and specialty accent colors. We work with you to find solutions if you're upgrading an entire facility or just need to match an addition to the existing structure.
---
Upgrade Your Building with Paint that Performs
No matter the color you choose, our job is to combine beauty with function. Our interior latex topcoats are durable and come in a range of finishes, including:
Flat, low-sheen, low gloss, and high gloss
Anti-microbial and odor-eliminating
Microbicidal interior paints (for public restrooms)
Waterbased acrylic epoxy for stain-resistance
Waterbased catalyzed epoxy for corrosion resistance
Exterior acrylic coatings formulated to protect against peeling and blistering
Exterior latex paint formulated to resist moisture
---
We offer paint and staining services for: 
Activity Centers
Libraries
Fence Painting
Cabinetry
Custom Color Matching
Specialty Accent Colors
Assisted Living Facilities
Unit Refreshes
Retail
Tenant Improvements
Decks and Pergolas
Lobbies and Common Areas
Balconies
---
Exterior services include specialty paints for: 
Ferrous Metals
Non-Ferrous Metals
Wood
Concrete and Masonry
---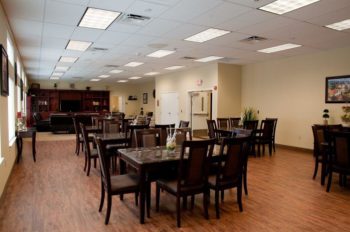 Interior and Exterior Commercial Painters
Star Painting's employees are not contractors – they are dedicated professionals who take great pride in their work. Your project will be handled professionally; in a manner that prioritizes clear communication and meets your expectations.
We don't just focus on the results, we know that the painting process involves more than that. From the initial consultation to the final quality check, our clients know their project is being handled by individuals at the height of their profession.
---
What do our painters do differently?
Painting services can be rendered independent of construction or as part of larger upgrades for tenant improvement projects, light commercial facilities, apartment buildings, hospitality, and retirement homes.
We know that no painting job can be done well if the surface hasn't been properly prepared. Our painters carefully inspect surfaces and always repair, sand, or apply primer before applying paint.
Coatings are purchased based on specifications provided by the owner or designer of the project.
All of our paint is OSHA approved.
The in-house Star Painting crew meets all Oregon safety requirements; using commercial-grade ladders, forklifts, and other equipment to ensure all work is performed according to regulation.
Our team provides surface preparation, previous coating removal, mildew removal, drywall touchup, full primer of repaired areas, masking and overspray protection.
High-performance finishes for doors, handrails, baseboards, and kickplates
We never paint around fixtures – our crew is highly detail oriented and always removes and replaces panels and light fixtures as needed.
Safe, licensed lead paint removal for buildings older than 1978.
Strict adherence to budget and scheduling parameters.
Low-VOC paints by request
Commercial-grade Sherwin-Williams and Rodda Paint
---
 You've come to the right place for commercial paint. Contact Star Painting in Salem, Oregon today.
---
Star Painting LLC also offers Commercial Painting in:
Dallas, OR and Keizer OR